Music is the great uniter—it brings people from all walks of life together, with the common goal of listening to and appreciating their favourite bands and artists. Whether it's attending huge music festivals that span hundreds of acres or listening to vinyl records alone, most people listen to music at some point during their life.
As a provider of music tickets, the music event experts at SeatPick wanted to find out where in the world was best for music aficionados to live and visit. So, we tallied the data and crunched the numbers to find just which cities were best for music lovers.
Top 10 Cities for Music Lovers
We looked at several criteria to reveal which city is best for music lovers. From a seed list of cities known for their music scenes, we tallied the number of music venues per city, the upcoming music festivals and concerts in the city, the number of vinyl record and musical instrument shops, as well as how many artists and bands call the city their home.
1. London, England
While the USA may dominate the top 10 list, no US city can beat the music hub that is the UK's capital, London. Achieving a ranking of 9.3/10, this city scored highly across the board, with 77 music venues, 21 music festivals and 1,906 concerts coming up, 110 record stores, and 2,850 artists/bands claiming the city as their home.
2. Los Angeles, United States
Kicking off the run of US cities is Los Angeles, which scores 9.14/10. The City of Angels has also scored well across multiple categories due to its high number of music venues (135), the number of concerts planned (1,575), and the number of artists/bands that are from the city (2,516). The category that really let Los Angeles down was that of music festivals—it only has three music festivals in the diary!
3. Chicago, United States
Third place goes to Chicago, which scored 8.91/10. The windy city is chock-full of music lovers, with 1,795 bands and artists calling the city home. The city is also host to 151 music venues and has 1,347 concerts planned. The city is only let down by how few musical instrument stores it has (nine) and the low number of musical festivals planned (11).
4. New York City, United States
The Big Apple has a reputation for being a city of music, evidenced by a score of 8.87/10, despite landing in only fourth place in the rankings. New York City is the birthplace of many artists and bands, with 3,061 hailing from the city. The city also has a high number of music venues, with 127. But the city that never sleeps clearly isn't a place for festivals, with only two music festivals planned.
5. Nashville, United States
Nashville is famous for being the home of country music, so it's no surprise to see it in the global top 10. The city scored 8.72/10, landing it in fifth place. But it isn't just country music in Nashville— the city is also famously a hub for Christian and Gospel music. That would explain the 1,211 concerts planned and the 479 artists and bands that call the city home. Nashville is let down by the small number of music festivals (three).
6. Seattle, United States
Seattle is home to a quite different musical genre than Nashville, falling more into hip-hop than Christian-Country. Scoring 8.55/10, Seattle places in sixth place. This is thanks to the 1,197 concerts it has coming up, the 38 musical instrument stores, and the same number of vinyl record stores. As with the other US cities on our list, music festivals aren't that popular in Seattle, with just four in the diary.
7. Austin, United States
In seventh place is Austin, with a score of 8.44/10. Austin is world-renowned for having an amazing live music scene, which is supported by the 99 music venues in the city. Austin also has a higher number of music festivals than other US cities, with eight coming up. The city also has a lot of live concerts in the coming months, with 856.
8-9. Denver and Boston, United States
Joint eighth place goes to Denver and Boston, which both score 8.34/10. Denver is experiencing a boom in its music scene, with a flurry of at least 181 musicians hailing from the city. This is trumped by Boston, which has over four times as many, with 753. However, Denver wins when it comes to musical instrument stores, with 56 compared to Boston's 17.
10. Atlanta, United States
Rounding out the top 10 is Atlanta, which scored 8.3/10. Widely regarded as one of the capitals of hip-hop, with a big output of crunk, neo-soul, and R&B. Atlanta has a high number of music venues (112), as well as lots of musical concerts (1,041) planned. What Atlanta lacks in music festivals (four), it makes up for in artists who call the city their home (551).
The Cities with the Most Music Venues
Music venues are the beating heart of a city's music scene. The acoustics, the staging, and the ambience can all make or break a show. It seems obvious, then, that cities with a lot of music venues all competing with each other would have a lot of music lovers in the vicinity. We've quantified and ranked these cities to reveal which has the most music venues.
The city with the most music venues of any on our list is Chicago. Famous for its blues music and for being the birthplace of house music, the music scene in Chicago is thriving. It comes as no surprise that the Illinois city has 151 music venues, making it one of the best cities for live music.
Following closely behind Chicago, but hailing from the opposite side of the country, is Los Angeles in California. The City of Angels is known for celebrities and stardom, and all the up-and-coming musicians need somewhere to perform. Well, they have plenty of options, as the city has 135 music venues to choose from.
Fourth place has us leaving the US and travelling to the other side of the world, to Seoul in South Korea. K-Pop, or Korean-Pop, is a worldwide sensation, and Seoul also has an incredibly popular underground music sound. The eastern city has 115 music venues to choose from, so there's also a concert playing to suit any musical taste.
Finally, the city with the fifth most music venues has us returning to the United States. Atlanta, Georgia. Referred to by the New York Times as "hip-hop's center of gravity", the city is home to many hip-hop artists such as Usher and Janelle Monae. Tourists and locals can make use of the city's 112 music venues to enjoy Atlanta's thriving music scene.
The Top Destinations for Festival Goers
Music festivals truly bring music lovers together. Whether super fans of particular artists, or bands at every level of fame, it's a chance for people to get together and simply revel in music. But some cities are better destinations than others for those who love a music festival, so we took a peek into cities' events diaries to see which had the most festivals upcoming.
The city with the most upcoming music festivals is London, UK, which will play host to 21 different festivals in the space of a year. Their size varies greatly, from the hugely popular BST Hyde Park festival, to smaller, independent festivals. Whatever kind of festival you fancy, London will be hosting it, making London one of the best cities for live music in Europe.
Second and third place is tied between two cities on opposite sides of the globe. Miami, in Florida in the USA, and Seoul, in South Korea, both boast 14 music festivals coming up over the next year. While the genres of the two cities' musical tastes may differ, Florida's punk-pop vs Seoul's K-Pop, both are excellent choices for those who enjoy music festivals.
The cities in fourth and fifth place are also tied, both hosting 11 music festivals over the coming months. These cities are also very far apart geographically. One is Havana, Cuba, noted for its Son and Nueva Trova music styles. The other is Chennai, in Eastern India. While it is famous for its Carnatic music, it is also a hub for more modern, popular music styles.
The Cities Spinning the Most Records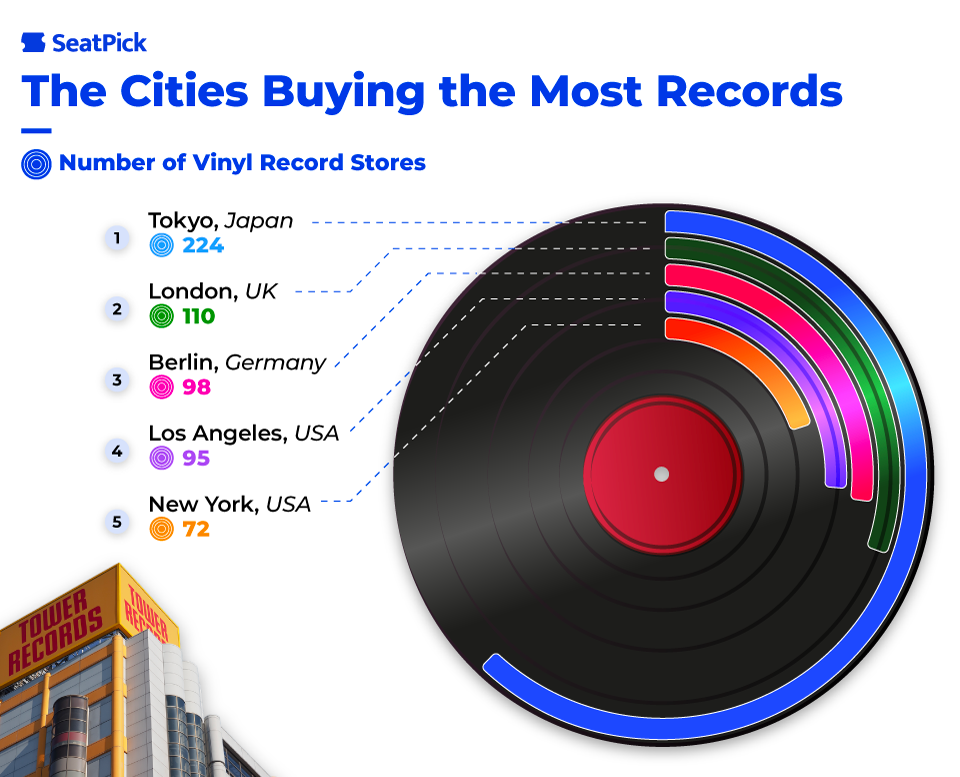 Does anything beat lying on the floor on your stomach, listening to your new vinyl record play? Despite being, relatively, old technology, vinyl records have had an upswing in popularity over the last ten years that has continued to grow. In fact, vinyl records outsold CDs in 2022. And where there's demand, there'll be sellers. So we tracked down every vinyl record shop, to see which city had the most of them.
The city with the most vinyl records may come as a surprise, but it does have a thriving music scene. Tokyo, the capital of Japan, has some world-famous music venues and festivals and also has the highest number of vinyl record shops. With 224 of them, they far exceed the number in any other city, showcasing Tokyo music lovers' commitment to that distinctive record player sound.
Second place belongs to the capital of the UK, London. While it is lagging behind Tokyo, the city can still brag about its 110 vinyl record shops. London has already claimed the title of the best city for music lovers, but this is especially true for those music lovers who are into vintage sounds.
Staying in Europe, Berlin in Germany follows closely behind London with 98 vinyl record shops. Berlin is known for its quirky music venues, such as a swimming pool, and its cutting-edge electronic music scene.
On Berlin's coattails is Los Angeles, which has 95 vinyl record stores. Los Angeles came second in the overall ranking of cities for music lovers, so it comes as no surprise that it would have many vinyl record customers.
Staying in the US, the fifth city on this list is New York, New York. The city has a strong musical history, in a huge variety of genres, so it makes sense that residents would celebrate this. With 72 vinyl record stores, New Yorkers have many options when it comes to procuring their favourite songs and albums in an old-school format.
The Best Cities for Musical Instrument Shopping
While listening to music is a big part of being a music lover, it's far from the only part. Playing, and learning to play, musical instruments is also a huge aspect. But it's tricky to learn to play an instrument when you haven't got one, which is where musical instrument stores come in. We tallied them up to find which city had the most.
The city with the most musical instrument stores is Chennai, in eastern India. Set on the Bay of Bengal, this city is home to 176 musical instrument stores. Whether you're after a tambourine or a tambura, Chennai is the place to go.
Berlin, Germany, is home to the second-highest number of musical instrument stores. The German capital has 130 of them, making it the city with the highest number in Europe. Following closely behind is Boston, Massachusetts, USA, which has 129 musical instrument stores, the highest number in the US.
The city with the fourth highest amount is also in the US. Los Angeles, California, is home to 122 musical instrument stores, so all the up-and-coming musical superstars have somewhere to buy their plectrums and guitar strings. This is followed closely by the country capital of Nashville, Tennessee, USA, which has 113 musical instrument stores.
The Cities Spawning the Most Artists and Bands
Some cities just seem to have music in their blood. From festivals and dancing in the street, to music venues on every corner, the cities' rhythms are set to a drum beat. People born in these places are destined to have a love of music, but some take it even further. We delved into it, and found which cities are spawning the most musicians and bands.
New York City seems to be the birthplace of music. 3,061 bands and artists claim the city as their home. Whether it's just their Empire State of Mind, or they're just living the Fairytale of New York, the city that never sleeps is chock full of artists.
Second place is London, UK, which has 2,850 musicians calling the capital their home. As it already has the title of the best city for music lovers, has the most music festivals, and a good number of record stores, it makes sense that musicians would thrive there.
Following closely behind London, as always, is Los Angeles, which boasts creating 2,516 musicians. Los Angeles has been a high scorer throughout our lists, so it comes as no surprise that many artists hail from there.
Staying in the US, fourth place goes to Chicago, which is home to 1,795 musicians. The windy city is another high scorer throughout, helping to cement the USA's position on the country's podium. This is also helped by the city in fifth place on our list. Detroit is famous for its music scene, and 1,033 artists hail from the city. From jazz to blues, R&B and hip hop, the music scene in Detroit is wide and varied and rich.
Top Three Countries for Music Lovers
Each of the cities on our seed list has a reputation for having a great music scene. With all the information about these musical cities, we wanted to see which countries would be best to travel to. We looked at all the different cities to tally how many were in each country to discover the best country to travel to or live in if you're a music lover.
First place, beyond question, belongs to the United States of America. This is because 19 of the musical cities from our top 50 are in the country, and they make up a huge portion of our top 10 list. From New York City to Los Angeles and, literally, everywhere in between, the USA is a nation built on music. Covering all genres, from country to classical, blues to neo-punk, the USA is a prime destination for music lovers everywhere.
Second place may be a surprising one to some. German cities have seldom appeared as top scorers, but nevertheless, four German cities are known worldwide for their music scenes.
Following closely behind Germany is England, which has three world-renowned musical cities. London has appeared many times in the listings and even trumped all others as the best city for music lovers. But England also has other musical cities, such as Liverpool, which is home to bands such as The Beatles and Frankie Goes to Hollywood. There is also Manchester, which birthed icons like Oasis and The Smiths.
Methodology:
SeatPick conducted a study to find the best music hotspots across the world.
A seed list of the top 50 cities known for music was taken from ListChallenges.
The number of music festivals across 2023 and 2024 was analysed from Music Festival Wizard.
The number of live concerts across 2023 and 2024 was analysed from Songkick.
Data for music venues, Vinyl Record stores and music instrument stores were sourced from websites such as Yelp, Google Places and VinylWorld.
This data was then percent ranked to provide a total score out of 10 and ranked in order of highest to lowest scoring.
Data is correct as of 29 June 2023 and is subject to change.