The Champions League returns
The final days of August 2023 treated us to the European draws for the UEFA Champions League, Europa League and the Conference League.
Once again, the Champions League took centre stage with its own draw ceremony on Thursday August 31, 2023 and there was no shortage of intriguing ties to look forward to.
Soon enough we will be able to witness Europe's very best go head-to-head, with a handful of mouth-watering matches ahead.
Once the international fixtures are over, there is a weekend of league action before the following Tuesday and Wednesday (September 19th & 20th) host the start of the Champions League group stages.
Champions League ticket prices on the resale market
Here at SeatPick, we are in a privileged position in that we can crunch some numbers on a wide range of ticket prices.
To analyze how the Champions League is looking, we have taken the prices for the four English teams and Celtic going into the group stages of Europe's premier competition.
The table below features all the group stage fixtures for Manchester City, Arsenal, Newcastle United, Manchester United and Celtic. They are correct as of September 11, 2023.
Match

Date

Starting price

AC Milan vs Newcastle United
September 19, 2023
£52
Man City vs Crvena Zvezda
September 19, 2023
£18
Feyenoord vs Celtic
September 19, 2023
£198
Arsenal vs PSV Eindhoven
September 20, 2023
£154
Bayern Munich vs Manchester United
September 20, 2023
£172
Manchester United vs Galatasaray
October 3, 2023
£61
Lens vs Arsenal
October 3, 2023
£209
Newcastle vs PSG
October 4, 2023
£276
Celtic vs Lazio
October 4, 2023
£194
RB Leipzig vs Manchester City
October 4, 2023
£123
Manchester United vs Copenhagen
October 24, 2023
£61
Sevilla vs Arsenal
October 24, 2023
£150
Newcastle vs Borussia Dortmund
October 25, 2023
£281
Young Boys vs Manchester City
October 25, 2023
£205
Celtic vs Atletico Madrid
October 25, 2023
£306
Borussia Dortmund vs Newcastle
November 7, 2023
£101
Manchester City vs Young Boys
November 7, 2023
£39
Atletico Madrid vs Celtic
November 7, 2023
£64
Arsenal vs Sevilla
November 8, 2023
£176
Copenhagen vs Manchester United
November 8, 2023
£396
Lazio vs Celtic
November 28, 2023
£48
Manchester City vs RB Leipzig
November 28, 2023
£39
PSG vs Newcastle
November 28, 2023
£83
Arsenal vs Lens
November 29, 2023
£176
Galatasaray vs Manchester United
November 29, 2023
£286
PSV vs Arsenal
December 12, 2023
£414
Manchester United vs Bayern Munich
December 12, 2023
£131
Crvena Zvezda vs Manchester City
December 13, 2023
£110
Celtic vs Feyenoord
December 13, 2023
£264
Newcastle United vs AC Milan
December 13, 2023
£297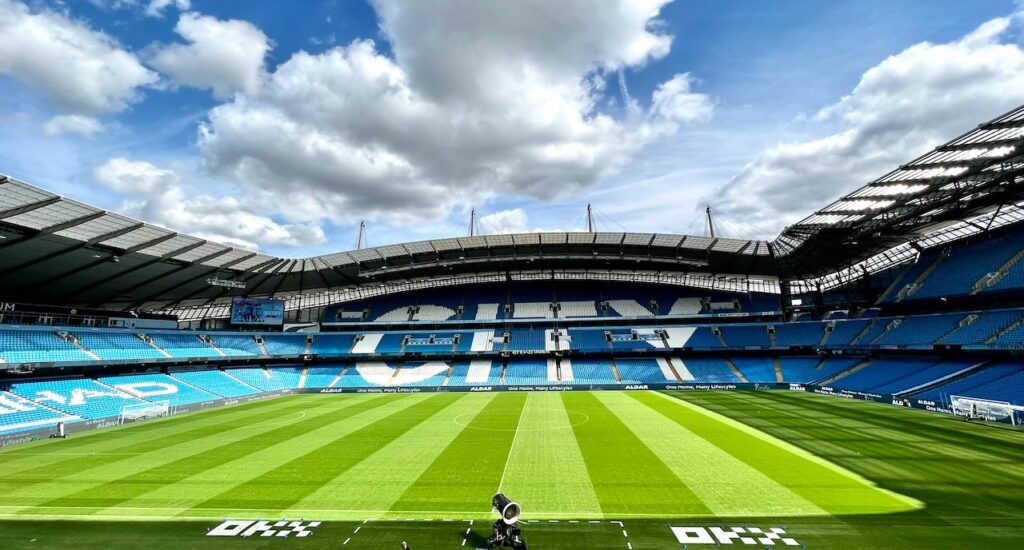 See Treble winners Manchester City for cheap (at home)
One of the most surprising price conclusions we can glean from the table above is how cheap it is to see Treble winners Manchester City in Champions League action at the Etihad Stadium.
It will set you back just over £100 to see all three Manchester City Champions League home games in the final months of 2023.
Part of this is down to the three opposing teams – RB Leipzig, Young Boys, and Crvena Zvezda (Red Star Belgrade). None of these are particularly big teams relative to most others in the Champions League, and Man City are widely expected to romp through Group G.
Another reason is that Manchester City fans once again have a fortune of games to look forward to and, even if a small fraction give the group stages a miss, there are plenty of seats to go round in the 53,400-capacity Etihad Stadium.
But, what an opportunity for fans of scintillating football!
Ultimately, Pep Guardiola has put together one of the all-time great sides at Manchester City and the price to watch the likes of Erling Haaland, Phil Foden and co. smash in the goals is a scandal.
Celtic cheaper to follow away than to watch at home
The other treble winners taking part in the Champions League group stages this season, are Scottish champions Celtic.
Ange Postecoglu may have left after winning the domestic treble, yet the demand to watch Celtic at home against Europe's best is very much still there.
All of Celtic's home games in Group E will set you back a fair whack. With a sizzling atmosphere expected at Parkhead (capacity: 60,411) there is huge demand to see Brendan Rodgers' side in Champions League action.
In the opposite trend to Manchester City, following Celtic away will be much cheaper. Simply, the demand on the continent to see Celtic is just not there. So, watching Celtic play away at Atletico Madrid or at Lazio are your best bets to see the Celts for cheap in the Champions League this season.
Newcastle in for an expensive return to the Champions League
It is 20 years since Newcastle United played in the Champions League group stages. So, sitting in Pot 4, it was almost inevitable that the Toon would be part of the Group of Death.
Ultimately, the likes of Paris St-Germain, AC Milan and Borussia Dortmund won't be too chuffed to be facing Eddie Howe's physical side, especially at a rocking St James' Park.
Group F is unequivocally the best pool of the 2023/24 Champions League group phase and it should witness several belting games.
Newcastle Utd Champions League tickets are quite similar to Celtic ones. Expensive at home, but far more affordable away, albeit to sit in the home ends at Parc des Princes, San Siro or Signal Iduna Park.
It is well worth noting though that tickets to see Newcastle play AC Milan in the San Siro can be bought for as little as £45, which is a massive bargain.
And, that is where SeatPick is hugely useful. We can pinpoint the games where you can find a cheap ticket to watch high-class football.
Of course, a ticket in the Newcastle end for the AC Milan match will set you back significantly more.
Arsenal Champions League tickets will also set you back
There is a theme developing here. If your team haven't played in the Champions League for a while, demand to see them in Europe's premier competition will spike.
When Arsenal played their 17th consecutive season in the Champions League in 2016/2017, not many Gunners fans will have predicted it would be six years before they returned to Europe's top table.
As a result, watching an Arsenal Champions League game at the Emirates Stadium this term will significantly set you back. For a single ticket, all six of Arsenal's games will cost you well over £100.
Fans might have joked that the likes of Sevilla, PSV and Lens make up a "Europa League group", yet there will still be demand to see the Gunners slice through their opponents at a rocking Emirates Stadium.
To compound matters for Arsenal fans looking for Champions League away tickets, none of the three teams they are travelling to have massive grounds, making those seats tough to come by as well.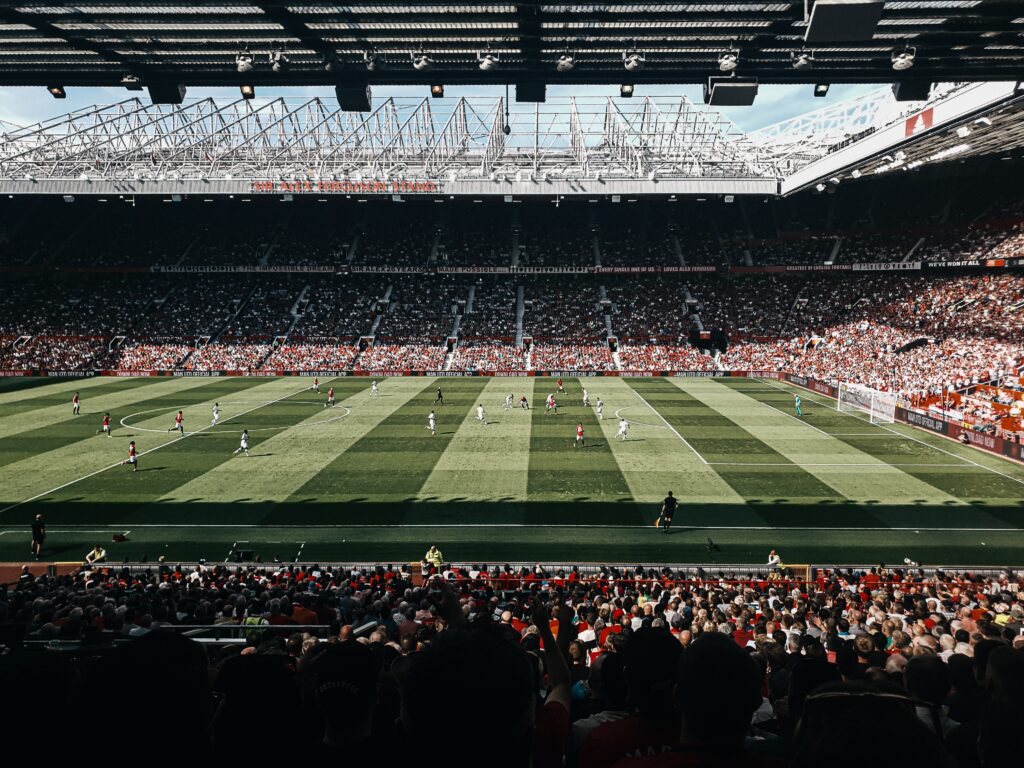 Manchester United remain a big draw in the Champions League
The Red Devils had their own absence from the Champions League and combined with a slow start to the season, you would expect interest in Erik Ten Hag's team to be relatively low.
Yet, Manchester United remain one of the biggest sides in the world and their appeal across Europe can be seen in their ties with Bayern Munich and Galatasaray.
The desire to see Bruno Fernandes, Marcus Rashford, Andre Onana and co. is for sure still there, especially in the games away against the German champions and Turkish giants.
One theme here is that there are high ticket prices to see the likes of Arsenal, Manchester United and Manchester City in their Champions League away games, which once again shows the Europe-wide interest in the Premier League.
Watching Manchester United at Old Trafford in this season's Champions League, against the likes of FC Copenhagen and Galatasaray, is much more reasonable than any other Red Devils game.
SeatPick: The home of Champions League tickets
Here at SeatPick, we know how much being there really means to football fans.
And, for fans of all the teams mentioned above, being at a UEFA Champions League game can be a dream come true.
SeatPick exists so that you can search out the best prices on the resale sites to hear the iconic Champions League anthem and then watch your heroes play.
Prices do fluctuate, especially for big games in the Champions League, so don't delay – get your tickets with SeatPick today!